Description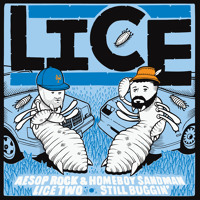 People of earth - We are proud to announce our new FREE EP - Lice Two: Still Buggin' ... Should the majesty of free music inspire some charity, here are a couple places we feel your money could do some good:
helpkidscatchfish
|
skateistan.org
Tracklist
1. Zilch
2. Couple Things
3. Oatmeal Cookies
4. Mud
5. Stop The Bleeding
You can catch both Aesop Rock and Homeboy Sandman on the road this winter during their
Hey Kirby Tour
through North America.
Click here
for details and a full list of tour dates.